If you've ever accepted a facebook application, you know the drill. Usually it will say something to the effect of "we have access to all your information now." Essentially, you are adding that application's developer/company as a friend.
One thing you may not be aware of is the fact that, if a friend of yours adds an application, it might now have access to any information your friend can see about you.
Some people (like myself) are not a big fan of that. Here's how to stop it:
Personally, I choose to eliminate any information for those applications, like so: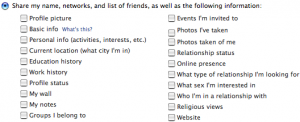 Good luck, and feel free to leave any questions in the comments.