There's nothing like sitting at What-a-Burger, eating breakfast, and telling stories to 20 or so of your most loyal readers. (okay, 20 is an overestimate, and by 'loyal', I mean 'only'). But thank goodness for free Wi Fi. I suggest you stop by sometime, and grab a burger or a milkshake. For fast food, you can't beat the milkshakes here.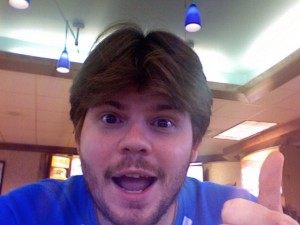 For those who don't know, I've just taken a new position at my job as a supervisor. I've also recently volunteered to take the graveyard shift so that I can go to church on Wednesday nights. This means that I'll be working a fixed shift, Tuesday – Saturday from 9:30pm to 6:00am every week. So, I find myself here eating breakfast and enjoying some people watching on a cloudy Saturday morning.
In May, Leslie and Sara came to visit. They brought rats. Leslie bought a Nintendo Wii while he was here. Those are addictive. We also played Goofy Golf with my Mom and Dad. I'm not sure who won, but it was the most fun I've had with the fam in a long time. It's recommended. Sara is the best sister-in-law I could've asked for. I hope I do as well as Leslie did in the wife department. Of the wife store. That they have. Yesss.
Other things that are new: We have a summer youth intern named Thomas. I'm very excited about that already. We like to eat together and sometimes deal out some ownage in Taboo. He's developing his ping-pong skills nicely (we all know that's crucial, right? RIGHT?) Also he's convinced me to buy a frisbee golf disc. I shall learn this game.
My friend Beulah is coming to visit me at the end of this month, so I'm pretty stoked about that. Our current plans involve the zoo, the beach, and lots of Home Movies and King of the Hill.
I'm going to go home now and watch some Saturday morning cartoons. Then I'm going to go to bed. Happy Saturday everyone.