i'm in a good mood right now, and i feel like sharing. welcome, friends.
sunday night i took the church van out to crestview with the youth group for the ignite youth rally. it was much like other events of the sort, and the spiritual boost always helps. i did realize something though. i really love working with teens, and i think i'm going to start looking for a youth ministry job somewhere. this was taken from the hood of the church van. Jarrett enjoys the gangster pose.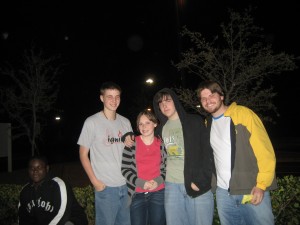 These kids are basically how I stay this side of sane… whichever side that is.
What else? Friday night I went swing dancing with Sara out at American Legion. I love it there, because the dancing is not of a promiscuous nature. Smoking and drinking are not allowed, so the people who are there are basically there just to dance and have fun. I am rhythmically challenged, but I am learning, and I really enjoy it. DDR is helping me work on the whole timing thing.
About a month ago I realized I was fatter than my liking, so I started on a diet and some light workout routines. So far, I've lost about 8 lbs (started around 215). I'm not so much worried about what the number on the scale says, but I would like to get in shape.
My diet has revolved around trying to limit my daily calories to a maximum of 2000, and breaking up my meals into 5 or 6 per day, every 2.5 hours or so. I try to drink nothing but water, and the really important part is getting 8 hours of sleep a night if possible. Workouts have been mainly limited to about 30 min of DDR daily, some light free weights, and for a few days I got up and jogged a mile first thing in the morning. (This last week I've been horrible, not working out, not getting enough sleep, and generally being lazy.) I seem to have plateaued, so I think soon I'm going to start on an actual weight routine. My starting goal was to reach 180lbs before the end of May. I'll keep you posted.
For those of you who don't know, on Saturday I'm leaving for Guatemala again. I'll be returning on 2/25, Lord willing. If you give me your address, I'll send you a postcard. I'm looking forward to the visit, practicing my espanol, and hanging out with my good friend, Mafer. Que buena onda!
One other thing that is just warming the cockles of my heart is that I got my phone back today. A few months ago, my Sony Ericsson Z520a that I bought unlocked and (ostensibly) unused from ebay. It worked great for a month, and then one day just stopped picking up signal. I put my SIM card in my old Nokia (despite its age, it seems to be the only reliable phone that works no matter what). On 1/30, I finally FedEx'd it out to the good folks Sony Ericsson hired to do their repair work. I did not have high hopes. Long story short, it arrived back on my doorstep today. It works like a charm and I'm pleased as punch. I'll cover this story in a separate blog, for the purpose of reviews and others who might have similar problems with this model phone. By the way, if you are reading this and have my phone number, give me a call. I lost all my phone numbers from my SIM when I put it in the old phone, so I am low on numbers at the moment.
God has blessed me. Please be praying for me, friends. I want to make sure that I rely on God every step of the way, even when things seem like they're under control and i don't "need" to pray about it. (I always need to pray about it). In closing, let me share some familiar lyrics, courtesy of Switchfoot:
I'm learning to breathe
I'm learning to crawl
I'm finding that You and You alone can break my fall
I'm living again, awake and alive
I'm dying to breathe in these abundant skies
This last couple of years, it's like I've been in some sort of fog. God is faithful, and he has continued to provide light for my soul, even when it was devoid of faith and full of sin. The path is getting brighter every day, and for that I am most grateful. Thank you, Lord for your tireless mercy and forgiveness. And thank you for loving me and seeking me out when I don't deserve it. Dust and ashes never could have hoped to have it so good… yet in Jesus, I do.
Let me take this opportunity to invite you to learn about Jesus, if you have not committed your soul to His care. I can promise that it will never be a waste, and though I will let you down, He never will.
oh, and apparently it's Valentine's Day. May it be a good one, and may chocolate fill your mouths. the end.