So, my brother is married now.
Last week we went up to NH to get him hitched. Several of Leslie's friends from Freed came up to be moral support and groomsmen. Even though I don't know them like Leslie does, I've always enjoyed hanging around with them. Many times, I've slept on their floors and couches in the dorm, and it was good to see them again. Last weekend, they taught me how to play poker (Texas hold 'em). Watch out, folks — all your precious plastic chips are mine. Muhahahhahaahaha.
Overall, the wedding was a lot of fun. Leslie is going to be an exceptional husband, I have no doubt. And, I have a wonderful new sister-in-law, Sara (used to be Blouin) Taylor. However, the thought that Leslie can now spawn children is a little crazy/scary, I must admit.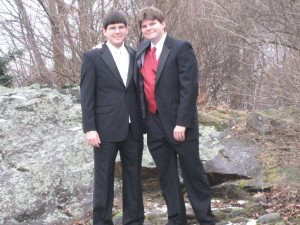 I still don't like the North. It has some great people, but I just don't think I could live there. I've spent considerable time in several foreign countries, and I feel more out of place in the Northeastern U.S. than any foreign soil I've yet visited. I don't know why that is.
The day after the wedding, I went up with Sara's sister, Christianna (Crish-tiyanna), to Montreal. After realizing that Quebec is not a city, but rather a province, charting the trip became much easier. We went to the Hard Rock there, but all the shirts were pretty boring. Too bad; I would've liked one. A fun fact about Montreal is that you can apparently smoke marijuana there legally. Either that, or a lot of people like odd-smelling cigars. C'était très bon de practiquer mon français de nouveau!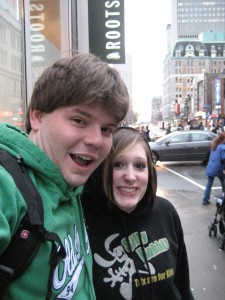 I've made some New Year's resolutions. I haven't done that in past years, so instead of one, I made 4:
1) Sleep for 8.25 hours every night.
2) Set aside time to Read the bible every day.
3) Make friends with someone at the climbing gym so I can climb weekly.
4) Talk about God to my non-Christian friends on a more regular basis.
And, in closing, many of you (well, ok, not really anyone, per se) have asked me to provide a list of my top 3 picks for celebrity women I'd date. So, here they are, in some order or another.
1) Liv Tyler (if she weren't married)
2) the Snorg t-shirt girl
3) Laura Prepon (Donna, from That 70's Show)
that is all.